My friend Sue taught me to ma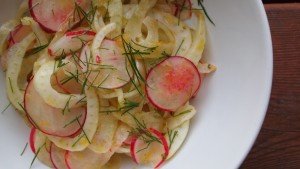 ke a version of this salad a few years ago in Portland. Its one of my favorite spring salads and is the first thing I think to make when I see fennel at the market.
1 decent sized bulb of Fennel, sliced very thinly, plus fronds for garnish
1 bunch Radishes, sliced very thinly
1 lemon, zested + juiced
1/4 cup Extra Virgin Olive Oil (The best you have. I love Central Texas Olive Ranch.)
Flaky Sea Salt, to taste
fresh ground Black Pepper, to taste
Combine fennel, radishes, and lemon zest in a medium bowl. Whisk together lemon juice, a pinch of salt, pepper and olive oil. Pour over veggies and let rest 30 minutes or more. Adjust salt to taste and garnish with a few fennel fronds.