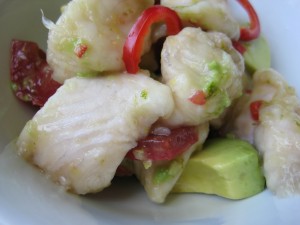 2 Catfish Fillets [rinsed well + chopped into bite size pieces]
2 lemons [zest from 1, juice from both]
1 lime [zest + juice]
1 Red Chili Pepper[minced]
1 Avocado [chopped]
1 Tomato [seeded + chopped]
Sea Salt [smoked or otherwise]
Combine fish with lemon + lime juice and zest in a glass bowl. Cover + refrigerate over night, stirring occasionally.
After marinating, drain fish of excess juices. Stir in the chili pepper, avocado + tomato. Sprinkle with sea salt and serve.
Serves 4 as a light appetizer.