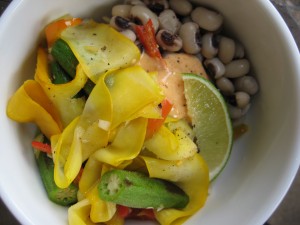 1-1/2 cups Baby Okra [no larger than 3″, stems + ends trimmed]
1/4 cup Sweet Pepper [sliced thinly]
2 Garlic Cloves [minced]
1 Yellow Summer Squash [peel into paper thin strips with a veggie peeler]
1 cup Brown Rice [medium grain, rinsed + cooked]
1 cup Black Eyed Peas [cooked]
1 Tbs Olive Oil
2 Tbs Water
Salt + Freshly Ground Pepper
1 Lime [juice only from 1/2, 1/2 cut into wedges]
2 Tbs Spicy Sandwich Spread
Stir lime juice into Spicy Sandwich Spread + set aside.
Heat oil in a large skillet over medium high heat. Add okra + saute until beginning to brown, about 3 minutes. Reduce heat to medium. Add peppers + garlic and cook 2 more minutes. Add squash + 2 Tbs water.   Cook about 2 minutes, stirring quickly but being careful not to break up the squash ribbons.  Season with salt + pepper.
Serve vegetables over rice + black eyed peas with a dollop of spicy sauce. Garnish with a lime wedge.