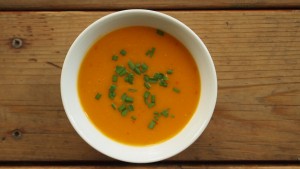 I have Deborah Madison's Vegetable Literacy home from the library at the moment.  There is a recipe for "Butternut Squash Soup with Coconut Milk, Miso and Lime."  that looks delicious.  I had several of the key ingredients around here, but improvised to such an extent that I can't say I've actually made the recipe.  So here is my simple, rainy Saturday take on butternut squash soup.  Perhaps next weekend I'll make the real deal.
2 Tbs Sesame Oil
1 medium Butternut Squash, roasted and peeled
1 Onion, chopped
1 inch Ginger, chopped
1 15oz can Coconut Milk
+/- 1 cup water
1 Tbs Harissa (or to taste)
1/2 lemon, juice only
2 Tbs Miso
Chives or other herb to garnish
Roast the butternut squash according to your favorite method.  This step can be done a day or two ahead if its convenient.
Heat the sesame oil over medium heat.  Saute the onion and ginger until softened, about 5 minutes.  Stir in the cooked butternut squash and coconut milk until well mixed.  Stir in water until desired consistency, about 1 cup.  Add harissa paste to taste.  Allow soup to simmer for 10-15 minutes.
Blend soup until very smooth.    Mix the lemon juice and miso together then stir into the soup.    Allow to cool slightly then top with a green garnish of your choice before serving.