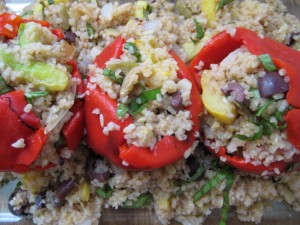 3 Red Bell Peppers [whole]
1 cup Bulgur Wheat
1 cup Sweet Onion [sliced]
2 Summer Squash [chopped]
4 Garlic Cloves [roughly chopped]
2 Tbs Olive Oil
Salt + Freshly Ground Black Pepper
1/2 cup Kalamata + Green Olives [pitted + chopped]
1 Tbs Balsamic Vinegar
1/4 cup Basil [fresh, thinly sliced]
Roast peppers till skins blacken [either under the broiler or over an open flame]. Allow to cool, remove skins, stems + seeds. Set aside.
Bring 1-1/2 cups water to a boil. Stir in bulgur, turn off heat + cover. Allow to stand for 15-20 minutes until water has been absorbed and bulgur is tender.
Meanwhile, preheat oven to 425 degrees. Toss onions, summer squash + garlic with olive oil, salt + pepper then spread into a single layer on a baking sheet. Roast for 15 minutes, flip, roast for 5 minutes more. Squash + onions should be lightly browned.
Toss squash, onions, garlic, bulgur, basil + olives in a large bowl. Drizzle with balsamic vinegar. Season with pepper. Stuff some of the mixture into the roasted red peppers. Transfer the remaining bulgur mixture to a serving dish + place the stuffed peppers on top. Serve.