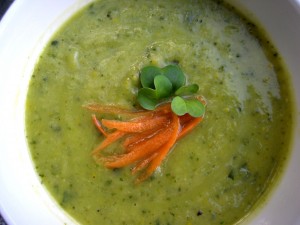 6 medium Zucchini or Yellow Summer Squash [chopped]
1-1/2 cups Sweet Onion [chopped]
4 Garlic Cloves [fresh if available, minced]
2 Tbs Extra Virgin Olive Oil
1 tsp + Salt
Freshly Ground Black Pepper
2 cups Vegetable Broth
1 tsp Fresh Oregano [chopped]
1 tsp Fresh Thyme
1/2 tsp Fresh Tarragon [chopped]
1/4 cup Fresh Basil [chopped]
Heat oil in a soup pot with a lid to medium heat. Saute onions and garlic, seasoned with a little salt + pepper for about 5 minutes. Add squash + 1 tsp salt. Increase heat slightly + saute for 5 minutes more. Add vegetable broth, cover + simmer for 10 minutes. Add herbs + simmer a few minutes more, until squash are tender. Allow to cool slightly then puree. Gently reheat if necessary or serve at room temperature.
Serves 4 to 6.