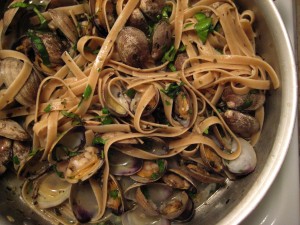 1 lbs Little Neck Clams [live, in shells, scrubbed clean]
2 Tbs Extra Virgin Olive Oil
5 Garlic Cloves [minced]
1/2 cup Clam Juice [or 1 small can chopped clams in juice]
1/2 cup White Wine
3 tsp Dried Italian Herbs [1 tsp Basil, 1 tsp Oregano, 1/2 tsp Parsley, 1/4 tsp Chives, 1/4 tsp Thyme]
1/4 cup Basil [fresh, chopped]
1/4 cup Flat Leaf Parsley [fresh, chopped]
1/2 lb Linguine [dried]
Heat olive oil in a large saute pan with a lid. Saute garlic over medium low heat for 2 minutes, making sure not to brown. Add dried herbs, stir, then add white wine. Simmer for 2 minutes. Add clam juice. Bring to a steady simmer and allow to reduce for 15-20 minutes until thickened and less than half original volume.
Cook pasta in salted water till al dente.
When sauce has reduced, add clams to pan and cover. Steam clams over medium high heat for 4 to 6 minutes, discarding any clams that do not open. Stir pasta + fresh herbs into pan and serve very hot in shallow bowls.
Serves 2 generously.