I suppose I have a risotto for all seasons. This one is just right for a cool, rainy spring evening in Austin; comforting but bright and summery. The base is sweet onions just harvested from my garden. Pulling 50 beautiful little onions out of the dirt is a great way to celebrate the end of another semester. Cooking up recipes full of them is a great way to celebrate being on vacation.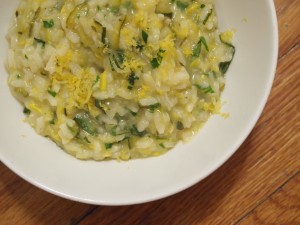 2 Tbs Butter
1 cup Sweet Onion [Texas 1015 or the like, chopped]
4 Garlic Cloves [minced]
2 medium Summer Squash [mixed colors, grated]
1/2 cup White Wine
4 cups Vegetable Broth
1 cup Arborio Rice
Lemon Zest from 1 lemon
1/4 cup chopped Flat Leaf Parsley + Basil
Salt to Taste
Heat vegetable broth and keep at a low simmer.
Melt butter in a large shallow sauce pan over medium low heat. Saute sweet onion till translucent, about 5 minutes. Add garlic + summer squash. Season with salt, depending on how salty your veggie broth is. Cook for a few minutes more, until the squash just begins to soften. Add rice + toast for a minute. Add wine + stir. After all liquid is absorbed, add about a half cup of vegetable broth. Stir frequently until liquid is absorbed. Repeat until all broth has been added and rice is tender and mixture is creamy. Stir in basil + parsley. Serve in shallow bowls garnished with plenty of lemon zest.
Serves 4 as a substantial side.