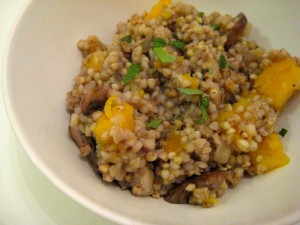 1 cup Onion [chopped]
4 Garlic Cloves [minced]
8 oz Crimini Mushrooms [sliced]
1 Tbs Extra Virgin Olive Oil
1 Tbs Butter
1 cup Kasha [roasted]
2 cups Vegetable Broth
Sea Salt + Freshly Ground Black Pepper
1 Tbs Oregano [fresh, chopped]
2 cups Pumpkin [roasted, chopped into 1″ cubes]
Roast pumpkin till tender, but not mushy. [A whole pumpkin will take 30-60 minutes, at 400 degrees F, depending on its size.] Chop.
Heat oil + butter in a large pan with a lid. Saute onion until translucent, about 10 minutes, seasoned lightly with salt + black pepper. Add garlic + mushrooms and saute until the moisture from the mushrooms has released and evaporated, about 10 minutes. Stir in kasha, making sure to mix well so groats are covered with oil. Add vegetable broth, cover, and simmer for 20 minutes, or until liquid has been absorbed + kasha is tender.
Stir in pumpkin and oregano, reserving a small amount for garnish.