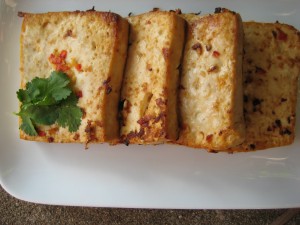 1 lb Extra Firm Tofu [high protein if available, sliced into 1/2″ thick slices]
1 Garlic Clove [minced]
1/2″ Ginger Root [grated]
1/2 Red Jalapeño Pepper [seeded if you like, minced]
1/2 Lemon [juice + zest]
dash Tamari
1 Tbs Olive Oil
Remove excess water from tofu by arranging slices on a kitchen towel and allowing them to dry for about 15 minutes. Combine, garlic, ginger, jalapeño, tamari, oil + lemon juice. Toss with tofu slices and allow to marinate for 1/2 an hour or longer.
Preheat broiler. Arrange tofu slices on a baking sheet + pour marinade over top. Move slices around to coat with lemon juice mixture. Broil for 10 to 15 minutes, or until garlic + tofu begin to brown, flipping once.
Serves 3 – 4. Great as a topping for Ginger Peanut Noodles.