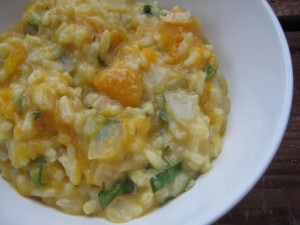 2 1/2 cups Butternut Squash [chopped into bite size pieces]
2 Tbs Olive Oil
1 Sweet Onion [medium, chopped, about 1 1/2 cups]
3 Garlic Cloves [minced]
1 Tbs Ginger Root [fresh, peeled + minced]
1 cup Arborio Rice
1/2 cup Dry White Wine
14 oz Coconut Milk
2 1/4 cups Vegetable Broth
2 Tbs Thai Green Curry Paste
1/2 cup Basil [fresh, chopped]
3 springs Thyme
1/2 Tbs Oregano [fresh, chopped]
Steam or pressure cook the butternut squash until very tender. In a medium saucepan, bring the coconut milk + vegetable broth to a gentle simmer and hold over low heat.
Meanwhile, saute onion, garlic + ginger in olive oil for about 10 minutes, until onions are softened. Add rice + toast, stirring frequently for about 2 minutes. Add half a cup of wine + cook, stirring frequently, until the rice has absorbed all the moisture. Continue to cook the rice, adding 3/4 cup of coconut broth as it is absorbed.
Stir the curry paste into the last cup of broth until well mixed. Add the cooked butternut squash + herbs with the last cup of coconut broth to the rice. Stir all the ingredients together gently + adjust the salt if necessary. Cook another couple minutes, then allow to stand for 5 minutes before serving.
Makes 4-6 servings.