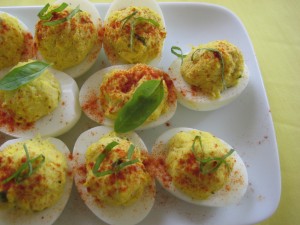 6 Eggs [free range, hard boiled, peeled]
2-3 Tbs Mayonnaise
1 Tbs Brown Stone Ground Mustard
1/2 tsp Tarragon [dried]
1/4 lb Crab Meat [picked over for shells]
1 tsp Basil [fresh, chopped]
pinch of Salt
dash Smoked Paprika
Cut each egg in half. Combine yolks, mustard + mayonnaise in a bowl and mix till smooth. Stir in tarragon, crab, basil + salt. Divide crab mixture into about 1″ round scoops + fill egg whites. Serve garnished with a little extra basil + a dash of smoked paprika.