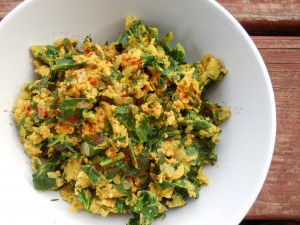 3 large Collard Green Leaves [center ribs removed, chopped]
1 Garlic Clove [grated]
1/2 tsp Ginger Root [fresh, grated]
1/4 cup Red Onion [chopped finely]
1/2 tsp Sweet Curry Powder
3 Eggs [free range, well beaten with 1 Tbs water]
1 Tbs Safflower Oil
Sea Salt
Smoked Hot Paprika or Cayenne Pepper
Heat oil in a cast iron skillet over medium heat. Saute onion, garlic + ginger till fragrant, about 2 minutes. Add collard greens. Saute until just tender + bright green, about 5 minutes. Add curry powder + stir. Add eggs + stir frequently until just cooked. Season with sea salt + serve with a dash of hot paprika.