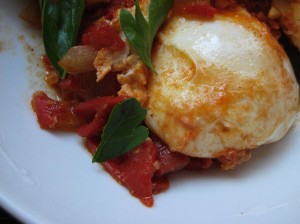 1 medium Sweet Onion [chopped, 2 cups]
5 Garlic Cloves [minced, 2 Tbs]
2 Tbs Extra Virgin Olive Oil
Salt + Freshly Ground Black Pepper
10 Roasted Piquillo Peppers [skins, stems + seeds removed, chopped]
14 oz Canned Tomatoes [diced in juice]
1/2 cup Vegetable Broth
1 tsp Smoked Spanish Paprika
1/2 tsp Fresh Oregano [chopped]
1/4 tsp Fresh Thyme
4 to 8 Eggs [free range]
1/4 cup Fresh Parsley [roughly torn]
1 loaf Rustic Bread [crusty on the outside, soft inside]
This stew is ideal for breakfast. Make the night before and allow to cool overnight. The flavors with blend nicely and make the morning preparation very quick. If you want to make it in the morning, just skip the cooling + reheating steps.
Heat olive oil to medium in a medium saucepan with a lid. Saute onions + garlic, seasoned with salt + pepper until very tender, about 10 to 15 minutes. Do no allow to brown. Add peppers + paprika, stirring constantly for 1 minute. Add tomatoes, oregano, thyme + broth and bring to a gentle boil. Allow to reduce over a low simmer for 15 minutes. Juices should just thicken. Allow to cool covered overnight.
When ready to serve, bring stew to a gentle boil. Make a cup within the stew by pushing aside the tomato and pepper chunks. Crack an egg into the prepared spot in the stew. Repeat with 3 more eggs making sure that they are separated enough that their whites do not touch. Allow eggs to poach for about 5 minutes until whites are set. Scoop eggs from stew. Repeat with remaining 4 eggs if desired.
Serve eggs in a shallow bowl over a large spoon full of stew. Top with parsley + serve with bread.
*This recipe won Editor's Choice for GOOD Magazine's Crowdsourced Cookbook: Comfort Food Edition! Check out the cookbook here.*