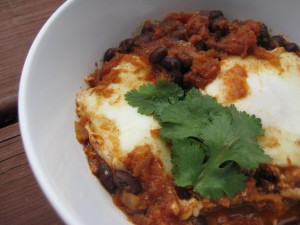 1 cup Onion [minced]
1 Tbs Olive Oil
2 Garlic Cloves [minced]
1 tsp Chili Powder
1/4 tsp Chipotle Chili Powder
1/2 tsp Cumin
5 Sun Dried Tomatoes [chopped]
14 oz Diced Tomatoes [+ their juices]
2 cups Black Beans
4+ Eggs [free range, no more than 1 week old]
Cilantro
Tortillas
Heat olive oil in a shallow 5-1/2 quart sauce pan. Saute onion for about 5 minutes, then add garlic + spices, stirring for a few minutes more. Add the diced + dried tomatoes + bring to a gentle simmer. Allow to simmer for about 10 minutes, until flavors are well blended. Stir in the beans.
Make 4 depressions in the stew with a spoon + break an egg into each. Cover + allow to simmer for about 5 or so minutes until the eggs are poached to your liking. [You can carefully remove the eggs + poach more as desired.]
Serve a couple eggs + a scoop of stew in a shallow bowl topped with cilantro with tortillas on the side.