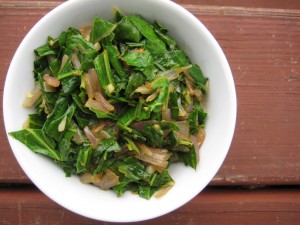 1 bunch Collard Greens [chopped, about 4 cups]
1 cup Red Onion [chopped finely]
1 Tbs Niter Kibbeh [spiced clarified butter*]
1 Tbs Ginger [fresh, grated finely]
3 Garlic Cloves [minced]
1 tsp Berbere*
Sea Salt
Heat niter kibbeh in a large saute pan over medium heat. Saute onion for about 5 minutes. Add ginger, garlic, berbere + saute for a minute more, stirring frequently. Turn the heat up a bit, add the collard greens and a splash of water. Steam saute until the green are tender, about 5 minutes. Serve seasoned with sea salt.
*Niter Kibbeh is an Ethiopian spiced, clarified butter made with cinnamon, cardamom and other spices. It is pretty simple to make, tastes incredible, and lasts for several months. I used the recipe in Moosewood Sunday Suppers + there are plenty of others online. It is a great base for lentil dishes, or even on toast. You could substitute butter if desired.
Berbere is an Ethiopian roasted spice mixture with plenty of sweet spices, Hungarian paprika, and dried red chilies. Again, I made the very simple recipe out of Moosewood, but this could certainly be purchased at a good specialty store or local Ethiopian restaurant.  It keeps well and can be used to season a great deal of dishes like sweet potato oven fries, lentils, chili…. I think a good sweet + spicy creole seasoning would made a good substitute.