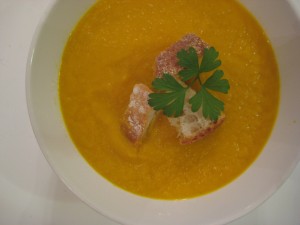 1 cup Sweet Onion [chopped]
2 Garlic Cloves [minced]
1-1/2 Tbs Ginger Root [peeled + chopped]
2 Tbs Butter
5 Carrots [chopped, about 3 cups]
2 cups Vegetable Broth
dash Smoked Hot Spanish Paprika [to taste]
Melt butter in a medium saucepan. Saute onion, garlic + ginger till softened, about 5 minutes. Add the carrots and saute a few minutes more. Add broth + paprika and simmer for 10-15 minutes, until the carrots are very tender. Puree with a blender till very smooth.
Serves 2.