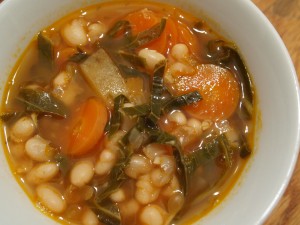 I loved my grandpa's navy bean soup as a kid.  This is a vegan twist on the original with smoked olive oil for richness + collard greens in place of celery. Its perfect with glass of red wine for a very satisfying winter meal.
1 Tbs Extra Virgin Olive Oil
1/2 Onion [about 1 cup, chopped]
2 Carrots [about 2 1/2 cups, sliced]
3 Garlic Cloves [minced]
1 Yukon Gold Potato [skin on, chopped]
2 Tbs Tomato Paste
4 cups Vegetable Broth [or water with good quality veggie bullion]
Sea Salt [to taste]
1 Tbs Smoked Olive Oil
2 1/2 cups Navy Beans [cooked till very tender*]
6 Collard Green Leaves [about 3 cups, sliced thinly]
Heat extra virgin olive oil in a large pot. Sauté onion for about 5 minutes, add carrot + garlic and sauté a few minutes more. Add remaining ingredients + bring to a boil. Cover and simmer until the vegetables are very tender, about 25 minutes. Season with sea salt to taste.
*If you use canned beans, don't add salt until the end of cooking so the beans cook the whole while + get very tender. I always pressure cook my beans. It yields a far better texture in a fraction of the time of stove top cooking. Its easy to pressure cook a big batch + freeze a few two cup containers for easy same day use. No need to ever buy another can of beans.