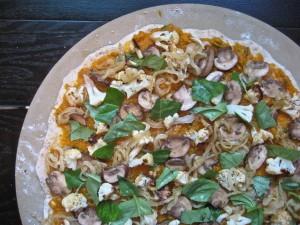 12 oz Butter Nut Squash [peeled + chopped into 1″ cubes]
5 Garlic Cloves [minced]
1 Butternut Squash [chopped into 1/2″ cubes]
Salt + Freshly Ground Black Pepper
1 cup Vegetable Broth
1 Tbs Olive Oil
1-2 Tbs Basil + Thyme [fresh, chopped]
Saute garlic in olive oil for 1 minute in a large saute pan with a lid. Add butternut squash + saute over medium heat for about 5 minutes until squash starts to brown. Add vegetable broth + scrape any browned bits from the bottom of the pan into broth. Cover and simmer squash until very tender, about 10 minutes. Mash with a fork, stirring to incorporate broth.
For use as a pizza sauce, simmer sauce over low heat, stirring frequently till desired consistency, about 5-10 minutes, then stir in herbs.
For use as a pasta sauce, thin with a small amount of unsweetened almond milk, simmer for 10 minutes, then stir in herbs. Serve over penne or other tube shaped pasta.