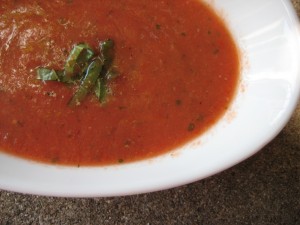 2 Peaches [freestone, chopped, about 2 cups]
3 cups Tomatoes [cored, chopped]
1/4 cup Sweet Onion [minced]
1/4 cup Fresh Basil [+ a little for garnish]
1/2-1 Tbs White Wine Vinegar
1 Tbs Extra Virgin Olive Oil
1/4 tsp Salt [+ more to taste]
Freshly Ground Black Pepper
Puree peaches, tomatoes, + onion in a blender. Add remaining ingredients + puree a few minutes more till very smooth. Adjust vinegar + salt + serve garnished with a little basil.