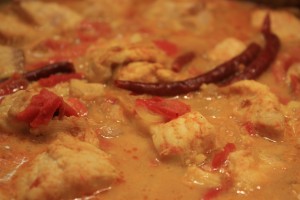 3 Catfish Fillets [chopped into 1″ pieces]
1/2 cup Onion [chopped]
3 Garlic Cloves [minced]
1 Tomato [seeded + chopped]
1 Tbs Olive Oil [or ghee]
Sea Salt
1/2 tsp Tumeric [ground]
2 tsp Coriander [ground]
1 tsp Curry Powder [sweet]
3/4 cup Coconut Milk
Heat oil over medium heat in a large skillet with a lid. Saute onion + garlic until translucent. Add tomatoes + spices + cook for 1 minute. Add fish + coconut milk. Cover + simmer until fish is just cooked through, about 5 minutes.
Serves 2 with rice as an entree or 4 as a side.