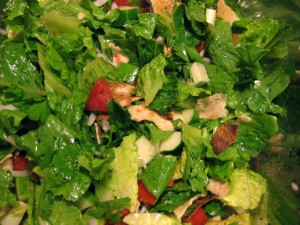 1 head Romaine Lettuce [torn into bite size pieces]
2 Cucumbers [chopped]
2 Tomatoes [chopped]
1/2 small Sweet Onion [sliced thinly, about 1/2 cup]
2 Pita Bread Pockets
1/2 – 1 cup Flat Leaf Parsley [leaves only]
Dressing:
2 Lemons [juice only, about 1/4 cup]
1/4 cup Extra Virgin Olive Oil
1 tsp Sumac
Salt + Freshly Ground Black Pepper
1 Garlic Clove [very finely minced]
Whisk all dressing ingredients together in a small bowl. Allow to stand for 20 minutes.
Toast pita under the broiler for about 2 minutes or until golden brown being careful not to burn. Allow to cool.
Mix all salad ingredients and dressing in a large bowl.
Serves 4 – 6.  Great with olives, pita, and Garlicky Hummus or Green Lentil Hummus.