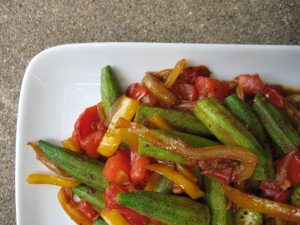 1/2 lb Okra [no larger than 3″, stems + ends trimmed]
1/2 cup Onion [sliced thinly]
3 Garlic Cloves [minced]
1 Yellow Sweet Pepper [sliced thinly]
1 Tomato [diced]
1 Tbs Olive Oil [or butter]
dash Tamari
dash Cajun Spices or Chili Powder
Salt + Freshly Ground Black Pepper
Heat oil to medium high heat in a large skillet. Saute onion and garlic until they begin to soften, about 2 minutes. Add sweet peppers + okra and continue to cook, stirring frequently, until vegetables begin to brown, about 5 minutes. Add tomatoes, a dash of tamari + seasonings.  Saute for several minutes until tomatoes are heated through.
Serves 2.