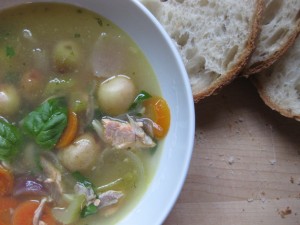 7 lb Steelhead Salmon [Backbone, upper fins, fleshy bones, etc. Rinsed. Basically, a whole salmon gutted, head discarded, fillets set aside for another dinner or two.]
5 Garlic Cloves [roughly chopped]
2 Red Chipolini Onions [quartered]
1/2 Yellow Onion [sliced]
6 Celery Ribs + Leafy Hearts [small, chopped ribs. Hearts whole.]
2 Carrots [sliced]
1-1/2 cups Tiny Red Potatoes [1″ diameter max, whole]
1/2 cup White Wine
8 cups Vegetable Broth
1 handful Basil [fresh, roughly chopped]
2 Tbs Butter [unsalted]
Salt + Freshly Ground Black Pepper [to taste]
Saute onions, celery, and garlic, seasoned with salt + pepper in a large pot over medium high heat until tender and beginning to brown. Add wine to deglaze pan. Add salmon chunks[bones, fins, skin, etc.], potatoes, and cover with vegetable broth. Bring to boil. Simmer for 5 minutes till salmon is tender.
Carefully lift the chunks of cooked salmon from the stew and gently remove meat from bones, skin + fins. Add meat back into soup and discard bones, skin + fins. Add carrots and simmer for 5 – 10 more minutes until potatoes + carrots are tender. Stir in butter + basil.
Serves 4 with a loaf of crusty bread.