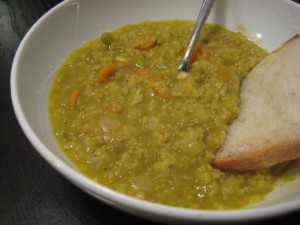 1 cup Green Split Peas [soaked in 2 cups water for 6+ hours]
2 cups Vegetable Broth
1/2 cup Bulgur Wheat [bring 1 cup water to a boil, stir in bulgur, remove from heat + let stand until water is absorbed]
2 Tbs Extra Virgin Olive Oil
1 Onion [medium, chopped]
2 Garlic Cloves [minced]
Salt + Freshly Ground Black Pepper [to taste]
2 Carrots [sliced thinly]
1/2 tsp Turmeric [dried]
1/4 tsp Cayenne Pepper
After soaking peas, rinse under cold water. Bring peas + vegetable broth to a simmer in a medium size pot and cook peas till very tender, about 20 minutes. Meanwhile, saute onion + garlic in olive oil, nicely seasoned with salt + pepper. After about 5 minutes, add carrot and saute for several minutes more. When peas have finished cooking, add onion, garlic + carrot mixture to peas. Stir 1/2+ cup water [more if peas are dry], spices and bulgur. Simmer for 10 minutes until carrots are tender + flavors have combined.
4 servings. Great with crusty bread.