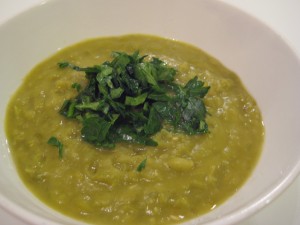 1 cup Green Split Peas
1 Onion [chopped]
3 Garlic Cloves [chopped]
1 Tbs Olive Oil
2 cups Vegetable Broth
dash Turmeric
1/4 cup Flat Leaf Parsley [fresh, chopped]
2 Tbs Meyer Lemon Juice
Heat olive oil in a medium sauce pan.  Saute onion for about 5 minutes, add garlic + saute 1 minute more.  Add split peas + veggie broth.  Simmer till peas are very tender, about 1 hour.  Mash a few of the split peas with a fork until soup reaches a thicker consistency. Stir in parsley + lemon juice.
Serves 2 for dinner with a tasty salad + some crusty bread.