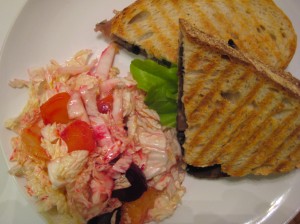 Caramelized Onions:
1-1/2 Onions [sliced very thinly, combination of white + purple onions]
6 springs Thyme [fresh]
Sea Salt
2 Tbs Olive Oil
Mushrooms:
2 Garlic Cloves [minced]
3 Portabella Mushrooms [stems removed, sliced into 1/2″ slices]
1 Tbs Olive Oil
2 Tbs Balsamic Vinegar
2 Tbs Red Wine
1 Tbs Oregano [fresh, chopped]
Horseradish [to taste]
6 slices Sourdough Bread [fresh baked, crusty outside, soft inside]
For the onions, heat olive oil in a large saute pan with a lid over medium heat. Swish hot oil over the bottom of the pan + add onions. Season with sea salt. Cook over medium heat, stirring occasionally + making sure the onions do not brown. After about 5 minutes, when onions have wilted + started to change color, reduce heat and cover. Stir occasionally until the onions are well caramelized, about 1/2 an hour.  When the onions are done, stir in the fresh thyme leaves.
Meanwhile, heat olive oil in another large saute pan with a lid for the mushrooms. Add garlic + heat till fragrant, about 1 minute. Add the mushroom slices + cover. Allow to cook over medium heat, stirring every few minutes. In about 5-7 minutes, when about half of the mushrooms have softened, add the wine, balsamic vinegar + oregano.   Stir well to coat. Cook for about 5 more minutes until most of the cooking liquid has evaporated.
Smear each piece of bread with horseradish to taste, then pile with caramelized onions + balsamic coated mushrooms. Put on the top slice of bread and toast the sandwich in a grill press till the bread is golden brown + the ingredients have soaked in to the bread. Serve hot.
*I served this with Cabbage Beet Coleslaw from The Kitchn.  A great fresh, wintery beet slaw with a honey mustard dressing + plenty of color on the plate.  I used a napa cabbage in the recipe + threw in a fresh segmented orange for a little extra sweetness.  Yum, a perfect January meal.