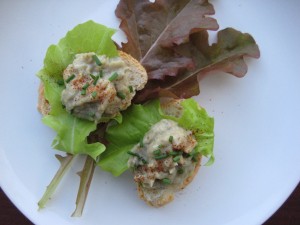 5 Eggplants [small to medium]
1 Tbs White Onion [finely minced]
1 Garlic Clove [finely minced]
1 Tbs Tahini [raw]
1 tsp + Extra Virgin Olive Oil
1/4 tsp + Smoked Sea Salt
1 tsp Chives [fresh, chopped]
1 tsp Thyme [fresh, chopped]
Smoked Spanish Paprika [for garnish]
Preheat oven to 400 degrees F. Lightly oil a large baking sheet.
Pierce eggplants several times with a knife. [Leave the tops on as a handle.] Place on the burner of a gas stove + allow to cook for 10 minutes, turning occasionally. The skins should be blackened and blistering + the interior softened.
Cut off the stems + slice the eggplants in half. Place them face down on the baking sheet + bake for about 25 minutes until the flesh is very soft.
Carefully scoop the pulp out of the charred skins + into a bowl. Mash well with a fork, adding in the tahini, garlic, onion, 1 tsp extra virgin olive oil + 1/4 tsp sea salt. Refrigerate several hours until chilled.
Stir in herbs, season with salt to taste. Serve with a french baguette, garnished with smoked spanish paprika + a little bit of finishing salt.