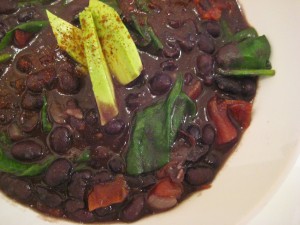 2 cups Black Beans [dried, soaked 8 hours]
Olive Oil
3 Garlic Cloves [minced]
1/2 cup Onion [chopped]
1 can Tomatoes [chopped]
1/4 cup Sun Dried Tomatoes [not in oil, chopped]
1/4 tsp Salt
1/4 tsp Chipotle Chili Powder
1/4 tsp Cumin
1/4 tsp Marjoram
1/2 cup Vegetable Broth
2 cups + Spinach
Pressure cook the beans till very tender, reserve liquid.
Heat a tablespoon of olive oil in a medium sauce pot. Saute onion + garlic for 5 minutes, till softened. Add tomatoes, sun dried tomatoes, broth, herbs + spices. Simmer for 5 minutes more. Add beans + spinach, simmer for another 5 minutes. Stir very well, mashing some beans till soup has thickened slightly or add reserved bean cooking liquid till desired consistency.
Serves 4 to 6.