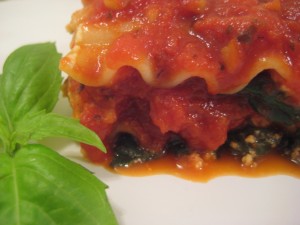 1-1/4 lbs Firm Tofu
1 lb Spinach Leaves
1 Tbs + 1 tsp Olive Oil
1 Garlic Clove
1 Lemon [zest + 1 Tbs juice]
1/4 cup Pinenuts [toasted]
scant 1/4 cup Nutritional Yeast
Sea Salt
1/4 cup Basil [fresh, sliced into thin strips]
1/2 lb Lasagna Pasta [about 12 3″ wide strips]
2 cups Tomato Sauce [your favorite recipe]
Saute spinach in 1 tsp olive oil till just wilted. Once cooled enough to handle, squeeze out excess moisture. Meanwhile, cook pasta till nearly cooked, firm to bite.
Preheat oven to 350 degrees. In a food processor, combine tofu, garlic, lemon juice + zest, pine nuts +nutritional yeast. Blend till smooth. Season with salt + stir in basil with a fork.
Starting with a thin layer of sauce + spinach, alternate each ingredient to a 9 x 9 glass baking dish. There should be enough ingredients for 2 layers of spinach + tofu, + 4 of sauce and pasta. The top layer should be pasta covered with a thin layer of sauce to keep it from drying out while baking. Bake for about 35 minutes till edges begin to brown and center is heated through.
Serves 6+.