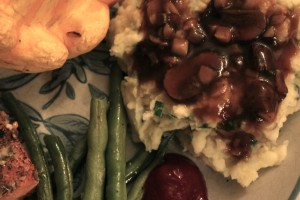 2 cups Vegetable Broth
1/4 oz Dried Porcini Mushrooms [broken into very small pieces]
8 – 10 Crimini Mushrooms [sliced thinly]
1 Tbs Olive Oil
2 Garlic Cloves [minced]
1 tsp+ Corn Starch [mixed into 1 tsp water]
Fresh Rosemary [chopped, to taste]
Salt + Freshly Ground Black Pepper [to taste]
Bring broth to a boil, stir in dried mushrooms. Cover + reduce heat to a very low simmer.
Meanwhile, in a high walled saute pan, saute garlic + mushrooms in olive oil over medium heat for about 10 minutes. Add broth and mushrooms to saute pan and allow to simmer for 5 more minutes. Increase the heat and stir in the corn starch + water mixture to thicken. Remove from heat, season with salt, pepper + rosemary.