I just returned from a 6 week trip to Buenos Aires.  Dining in BsAs is incredible; fresh, classic + innovative dishes, wonderful wines + tons of atmosphere.  The last of which is what I'd say sets the city apart from great US food cities like San Francisco and Portland… So many Buenos Aires restaurants ooze charm, nostalgia, and uniqueness, feeling hip or sophisticated without being pretentious.  Dimly lit tables in front of a wooden bar cabinet holding an impressive,  glittering selection of apéritifs.  Crisp white table cloths with mismatched china tea cups.  Hidden courtyards filled with white washed wooden tables.   A big, bright red antique scale sitting atop a contemporary bar.  A tiny place with 8 tables, only a chalkboard of daily dishes + only one remarkable waiter.  Who wouldn't want to spend 3 hours having dinner + wine at midnight in places like these?!  It only took me a few meals to really get it… go late, bring a few good friends, order a bottle of wine + relax over a wonderful dinner till the early hours of the morning.    I've decided to put together a little list of my favorite places around the city + the dishes I ate that made me want to return to Buenos Aires before I even left…
[restaurants]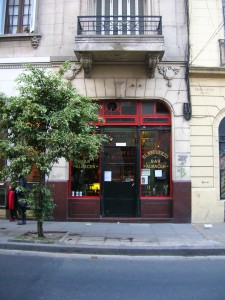 El Refuerzo aka "Secret Place" [Chacabuco 872, San Telmo]
Its a tiny restaurant with only 8 tables, only open for dinner after 8:30, only 3 daily dishes written on the chalkboards.  I assure you, you've never met a restaurant that smelled quite as good…  I was always instantly happy + relaxed as soon as we sat down.  The [one, amazing + charming] waiter brings you a basket of fluffy warm bread + a dish of marinated white beans to start.  Each time I went, I enjoyed really delicious pastas with fresh veggies and occasionally some boquerones.  Their house Malbec is excellent + quite possibly my favorite.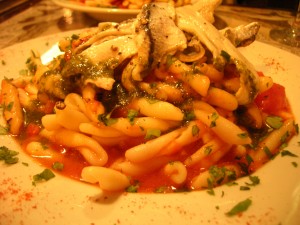 A couple girls + I discovered this place after a few days of being overwhelmed by traveling with a group of 28.   We quickly decided to keep it a secret, as our perfect little haven of happiness away from the intensity of the city + program, besides we loved the place full of locals.  We couldn't stop going back…
Territorio [Estados Unidos 501, San Telmo]
A dark little restaurant just outside of Mercado San Telmo which treated me to several great lunches.  These folks really know their eggplant!  They also serve a tasty appetizer of curried lentils with rustic bread.  My favorite sandwich [there is one in every city!] of Buenos Aires is definitely their marinated eggplant, tomato + zucchini served on thick slices of bread with a little salad on the side.
Café San Juan [San Juan 450, San Telmo]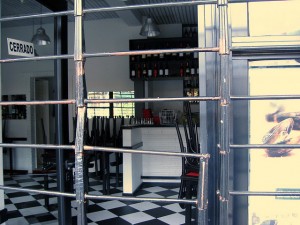 Wow, Café San Juan may well have served me the finest pasta I've ever eaten.  Fresh, house made squid ink pasta in a savory, spiced, roasted tomato sauce with broccoli.  Incredible.   Prepared by one of the restaurant's young hip chefs, presented on a chalkboard menu table-side, couldn't be better. Here's a great shot borrowed from Flickr, showing a little hint of the after dark rewards of Buenos Aires…
Café Rivas [Estados Unidos 302, San Telmo]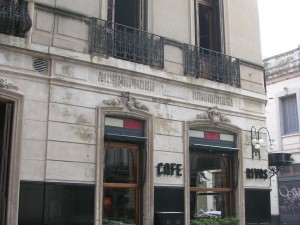 Like El Refuerzo, I couldn't help going back to Rivas several times during my 6 weeks in BsAs; it is just too perfect!  Antique lights, glass cake domes in the window, mellow turquoise painted walls, a piano player in the mezzanine… First, and perhaps best of all, they introduced me to the incredible aperitif Cynar, an artichoke liqueur served with grapefruit soda.  My most notable meal here was celebrating the end of our BaSic Initiative program; all the students + amazing folks that made it all happen took over the cafe on a Monday night.  We shared tasty appetizers + salads [caramelized pear + walnuts! smoked salmon + shrimp with thyme mayonnaise!].  For dinner I had an excellently prepared salmon with mustard + roasted potatoes followed by Isla Flotante, a soft, sweet meringue floating in passion fruit sauce.  Eating a meal like this in such a charming atmosphere was the perfect ending to such a trip.  Scroll through their photos on Facebook to get a good idea of just how perfectly cute this place is.
Club Social [Caseros 442, San Telmo]
Another place that oozes atmosphere, the dimly lit, dark wood, sit-all-night-drinking-wine type of atmosphere.  Club Social is a sophisticated, but not at all fussy place on an out of the way street.  I really enjoyed a dish of white salmon, simply prepared in a broth of shrimp stock + carrot, topped with green onion… and a few hours of great conversation with some trusty dinner companions.
Sudestada [Guatemala 5602, Palermo Hollywood]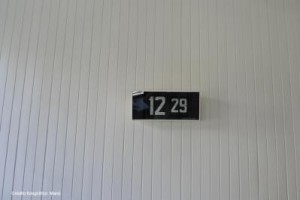 This [taken from Sudestada's website] was my dinner time view, watching this kitschy clock tick into the 2am hour.  A comfortably white interior, with only this single clock on the wall, was just right for this place serving Southeast Asian dishes.  I enjoyed incredible fishcakes with a spicy sauce and a tasty stack of pickled veggies on the side… and the few bites of my dining companion's daily special, a fried whole river fish with spicy bbq sauce.
UNIK [Soler 5132, Palermo Hollywood]
Let's get this straight:  all of these places were incredible… UNIK just happens to be the most incredible, for one reason:  smoked cauliflower puree.  Amazing.  Each table at this restaurant has a different set of designer chairs + a unique light hanging above.  Its super hip, with its young and wonderful barman, sommelier, and chef [and oddly quirky manager?].  First up, we enjoyed Cynar cocktails at the bar; a Juan Collins [Amargo Obrero, Genebra Bols, Cynar, Hesperidina, grapefruit juice + soda] + a couple Julepe de Cynar [to be reproduced, don't worry!].  Then to our table, where we sat in a set of comfortable red + white upholstered chairs, rather like Saarinen's but with a tripod base.  Our appetizer was warm leeks in a mustard sauce with smoked fish.  For dinner, the chef came to the table to present our dishes; I had a fillet of grilled fish on a bed of smoked cauliflower puree, which was truly incredible accompanied by a wonderful bottle of Sauvignon Blanc.
Bio [Humboldt 2199, Palermo Hollywood]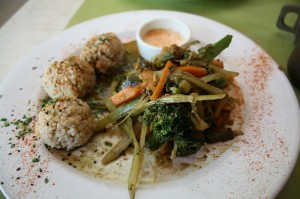 And after a series of such indulgent meals as listed above, I needed a decidedly healthful recovery meal.  I ventured out to Palermo Hollywood to enjoy a casual lunch at Bio, an all organic and vegetarian restaurant.    I enjoyed a few bits of a pureed pumpkin dip, tasty green curry seitan stir fry [lucky photographed by another traveler, Kalavinka, on Flickr] + some fresh ginger lemonade, with a bright and airy window seat.
Dill & Drinks [San Martin 986, Microcentro]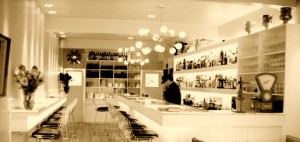 Eating with my friends Amy + Carolina is best typified by this meal + restaurant.  The place: really cute, contemporary with a couple antiques and a table perfectly sized for 3.  The menu: influence from all over, always changing with what is fresh + seasonal.  The waitress:  incredibly friendly.  The drinks: well done classics.   My dinner was a fresh fish cooked in a coconut soy sauce with a side of roasted sweet potatoes + arugula, preceded by a sweet cocktail of vodka and muddled grapes.  In short, delicious food, great atmosphere + lively conversation.
Dadá [San Martin 941, Microcentro]
A small, casual, hip spot for a light dinner with the girls.  We shared grilled trout on a bed of arugula + tomatoes and a pumpkin ravioli with almonds in a butter herb sauce, so rich but just right.  Add a glass of Ruca Maleri Malbec, a handsome bar tender + a very nice waitress [who helped us out by speaking English] + you've got a perfectly unpretentious evening out.
Urondo [Beauchef 1204, Parque Chacabuco]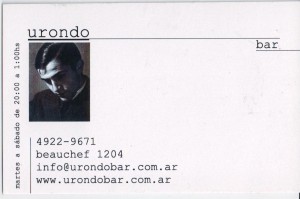 In a way, Urondo is as obscure as their business card.  In a very quiet neighborhood, Urondo simply inhabits a small corner restaurant, simply decorated + delightfully staffed.  They greeted us with a glass of rose + a small menu of seasonal dishes.  We enjoyed a bottle of Aguijón de Abeja [translate: bee's stinger!] Malbec with some straightforward dishes.  I had a simple fish served with fresh spinach, lightly sauteed mushrooms + perfectly caramelized red cabbage.
Blvrd Saenz Peña [Boulevard Saenz Peña 1400, Tigre]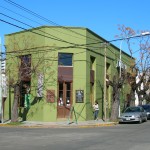 Perhaps the most fitting of places to eat near the end of the trip… Everything is for sale in Blvrd Saenz Peña.  If eating at all these impeccably decorated restaurants made you want to transform your home,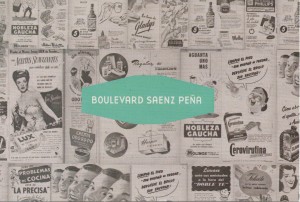 you could walk out with the chairs, table, adorable dinnerware + tons of cute accessories to replicate your very eating experience.  And you'd want to after enjoying a tasty fresh tuna salad + fresh baked bread on a sunny afternoon here.
[cafés]
Here are my favorite spots to enjoy a cup of coffee or drink, based mostly on atmosphere + accompaniments.
I (love) Cafe [Rodriguez Peña 1714, Recoleta]
While the coffee was nothing special, this place serves a "bagel" that is delicious.  Really, its not much like a bagel at all, but rather a soft pretzel, boiled and baked.  An error of food naming I am happy to ignore on a break from shopping and tourism in Recoleta.
Voulez Bar [Cerviño 3802, Palermo Chico]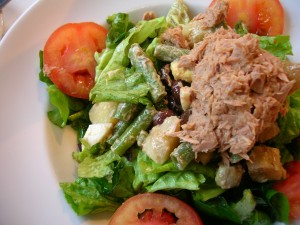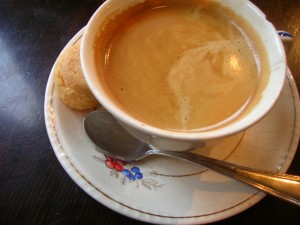 These couple pictures say it all… coffee so cute, well, I'd have to eat it?  Followed by a wonderful nueva salade niçoise.
El Baztán [Estados Unido 758, San Telmo]
Only 4 tables, but towers of baked goods stacked high on cake plates + quirky mismatched china tea cups.  A solid cup of coffee + a crumbly but delicious egg + tomato sandwich = great spot to catch up on your [food] journal.
Maria Rojo [Carlos Calvo 618, San Telmo]
The cutest place, hidden behind a clothing boutique with a delightfully sunlit, heated courtyard.  Cafe Doble served with two tiny squares of cake + a shot of soda water on the side, as it should be.
Bar Seddon [Defensa 695, San Telmo]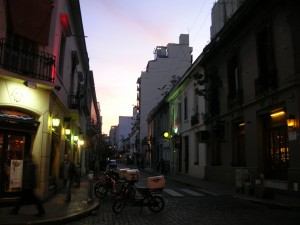 Day, evening or night, this place is a wonderful step into old style charm.  The tables + bar are set with dripping candles propped into wine bottles + packed with pleasant wine drinking folks.  A typical + delightful San Telmo corner bar.
[markets]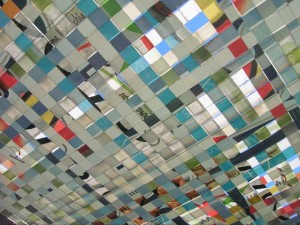 El Galpon [Chacaritas – behind La estación Federico Lacroze]
A small organic market in an old train station.  Delicious samples of whole grain empanadas, quince jam + other fine treats mix with vendors selling everything from organic yerba mate to fresh cheeses to organic produce.  There is a wonderful smelling parilla outside under a very cool shade structure made of recycled tarp signs.
Mercado del Progresso [Caballito]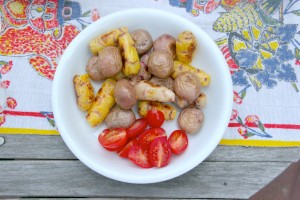 A nice all food indoor market with tons of fruit stands, specialty ingredients + tons of butchers.   I found some very unusual Andean potatoes… in fact, tiny sweet potatoes!  I roasted them with salt, pepper + herbes de provence for a late breakfast on the roof of my friend's amazing San Telmo apartment.
Mercado San Telmo [San Telmo!]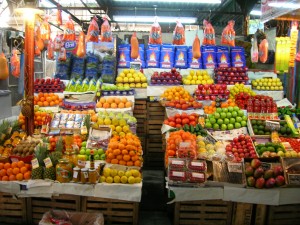 My local produce market.  A wonderful selection of beautiful presented vegetables, fresh eggs, bulk nuts + seeds, as well as bakeries attached to a market of the neighborhood's famous antiques shops.