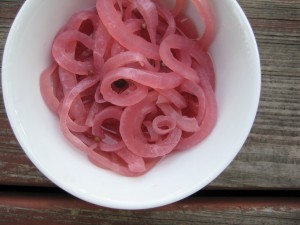 1 Red Onion [sliced in 1/8″ rings]
1 cup Apple Cider Vinegar
1/2 cup Water
1/4 cup Sugar
1/2 tsp Whole Coriander Seeds
1/2 tsp Allspice Berries
2-1/2″ Cinnamon Stick
Bring vinegar, water, sugar + spices to a boil in a large skillet. Add red onions, stirring until all turn bright pink + wilt slightly, about 5 minutes. Transfer to a glass jar + allow to cool to room temperature. Refrigerate until ready to use.
These onions are great on just about anything + ready to eat as soon as they are cool.