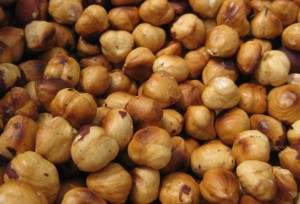 Hazelnuts [raw]
Sea Salt [medium grain]
Thyme [fresh, lots]
Extra Virgin Olive Oil [1/4 tsp +]
Preheat oven to 450 degrees. Line a baking sheet with a single layer of hazelnuts and roast for 6-10 minutes, stirring every two minutes, until skins blister and nuts are golden brown. Allow to cool to room temperature then rub hazelnuts between your palms to remove all the skins. Drizzle a tiny bit of oil into a boil and toss hazelnuts to lightly coat. Sprinkle with plenty of thyme and salt.