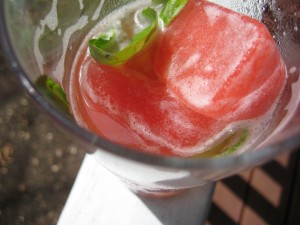 1 Watermelon [rind + seeds removed, roughly chopped]
2 inches Ginger Root [grated]
dash Cayenne Pepper [to taste]
Basil Leaves [garnish]
Blend everything but the basil in batches + combine in a large bowl or jar.
Refrigerate several hours, then serve as a soup in small bowls, garnished with basil.
Or
Freeze in ice cube trays.  Serve a glass full of frozen watermelon soup cubes, a few basil leaves + top with a summery wheat beer.