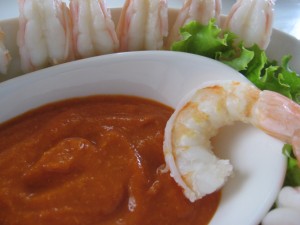 Cocktail Sauce:
1-1/2 cups Cherry Tomatoes [or other fresh, very ripe tomatoes, cut in half]
14 oz canned Diced Tomatoes [in juice]
1/4 cup Sweet Onion [diced]
1 Garlic Clove [minced]
1 tsp Olive Oil
2 tsp White Wine Vinegar
2 tsp Brown Sugar
1/4 tsp Chipotle Chili Powder
+/- 3 tsp Horseradish
2 lbs Key West Pink Shrimp [peeled + deveined]
1/2 Meyer Lemon
1/4 cup Red Onion [cut into chunks]
Sea Salt
Heat olive oil in a small sauce pan. Saute onion + garlic over medium heat until softened, about 5 minutes. Add tomatoes + their juices. Bring all to a simmer over very low heat. Allow to simmer for about 20 minutes, stirring occasionally, until the liquid is reduced by about half.
Patiently puree all ingredients until very smooth [using a hand blender or allowing to cool then blending].  Return to the stove + add vinegar, brown sugar, +chipotle chili powder.  Stir very well.  Gently simmer for about 30 minutes more until thickened, stirring every 10 minutes or so.  Remove from heat.
Bring a large pot of water, with lemon + red onion, to boil. Add raw shrimp and simmer for 1-2 minutes until shrimp are just cooked through. Remove to an ice water bath to cool immediately.
Stir 1-1/2 teaspoons [or more!] of horseradish into each 1/2 cup of tomato sauce*.  This full recipe makes about 1 cup of sauce.  Season with salt + pepper to taste, if necessary.
Arrange on a platter + chill both the sauce + shrimp for a couple hours.  Serve cold.
*If you choose to make fewer shrimp, the tomato sauce is perfect for over pasta or as a dip with oven fries. Just add the horseradish to the portion you're serving as cocktail sauce + save the rest for another dish.