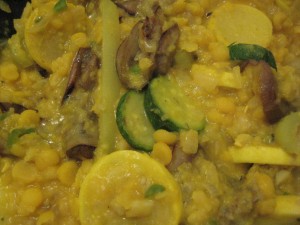 1 cup Yellow Split Peas [rinsed well]
1 cup Vegetable Broth
1 Onion [minced]
3 Garlic Cloves [minced]
1 Chili Pepper [minced]
1 inch Ginger Root [fresh, grated]
1 Japanese Eggplant [sliced in 1/4″ slices]
1 Zucchini [sliced]
1 Yellow Summer Squash [sliced]
1/4 tsp Turmeric
Sesame or Olive Oil
Salt
Yellow Sweet Rice:
1 cup Basmati Rice
6 Cloves [whole]
dash Cardamom [ground]
2 inch Cinnamon Stick
dash Turmeric
dash Corriander [ground]
This recipe requires 4 pots/pans cooking at the same time. It is best to prep all your ingredients ahead to help with the timing.
Soak split peas for 4-8 hours in 1-1/2 cups of water. Drain + rinse well.
[pot 1] Bring split peas to a boil with 1 cup of water + 1/4 tsp turmeric. Reduce heat + simmer, adding vegetable broth 1/4 cup at a time as water is absorbed. Be careful not to scorch. Lentils should be very soft and mushy when cooked.
[pot 2] Meanwhile, bring rice, 1-1/2 to 2 cups water + spices to a boil in a medium pot. Stir + simmer till tender. Remove from heat.
[pan 3] Heat a small amount of oil in a large pan with a lid. Fry eggplant in batches till tender. Remove from pan as cooking is complete.
[pan 4] Heat 2 Tbs oil in a small pan. Saute onion, garlic, chili pepper + ginger over medium low heat until very tender, about 10 minutes. Stir frequently + do not allow to brown. Remove from heat.
[pan 3] Once eggplant is cooked + removed from pan. Steam summer squash + zucchini in a few tablespoons of water until nearly cooked, about 5 minutes. Add cooked lentils, onion mixture + eggplant to to squash + stir gently to combine. [The lentils act as a sauce.]
Serve over yellow sweet rice. Serves 4-6.