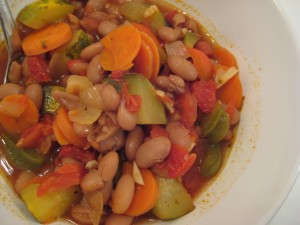 1 cup Onion [chopped]
3 Garlic Cloves [minced]
1 Carrot [sliced]
1 Bell Pepper [chopped]
1 Zucchini [chopped]
2 cups Pinto Beans
1-14 oz can Tomatoes
2 Tbs Olive Oil
Sea Salt [or Redmond salt]
2 cups Vegetable Broth
dash Chipotle Chili Powder
1/4 tsp Marjoram
1/4 tsp Cumin
1/2 tsp Chili Powder [a good blend with oregano]
Heat oil in a large stock pot. Saute onion, seasoned with salt, for 5 minutes over medium heat. Add carrots, peppers, and garlic + saute for 5 minutes more. Add zucchini + cook for 5-10 minutes, until all vegetables have softened. Add spices, stirring till fragrant. Add tomatoes, vegetable broth + beans. Simmer for 15 minutes.
Serves 4. Great with homemade tortillas + avocado slices.