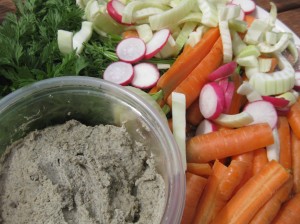 1 cup French Green Lentils
1/4 tsp. Dried Thyme
1 Bay Leaf
6 Tbs Extra Virgin Olive Oil
1 Lemon [juice only]
2 Garlic Cloves [smashed + peeled]
1/4 cup Tahini
1/2 tsp Cumin
1/4 cup Water
Salt + Freshly Ground Black Pepper
Fennel, Carrots, Radishes [sliced thinly for dipping]
Simmer lentils in 2 cups water with thyme + bay leaf till tender, about 20 minutes.   Allow to cool slightly.  Process all ingredients in a food processor till smooth, adding a dash more water or olive oil if necessary.  Serve with veggies, crackers, or bread.
Makes plenty. Would be great to half for a regular day; make the whole recipe for a party.