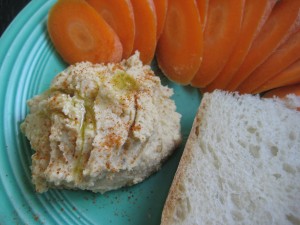 2 cans Garbanzo Beans [rinsed]
4 Garlic Cloves [make a very garlicky hummus]
1/4 cup + 2 Tbs Tahini
2 Lemons [juice only from 1-1/2, or more]
1/2 cup olive oil
1 tsp Cumin
dash Cayenne Pepper
Salt + Freshly Ground Black Pepper
Smoked Spanish Paprika [garnish]
Add beans, garlic, tahini, lemon juice + 1/4 cup of olive oil to food processor and process till smooth. Add seasonings, process again. Taste, adding more lemon juice, salt + pepper to taste. Garnish with a sprinkle of smoked paprika and serve immediately.
Party size. Serve with bread and veggies.
[Use only two garlic cloves for a less garlic-dominant spread or if you're going to serve it the next day.]