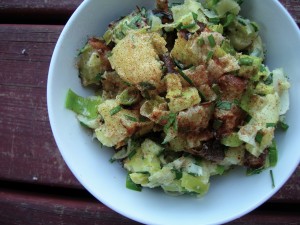 3 small Leeks [well washed, green ends trimmed to 2″]
4 medium Golden Potatoes [cut in half]
1/4 cup Garlic Chives [chopped]
1/4 cup Mayonnaise
Sea Salt
Freshly Ground Black Pepper
Heat the grill to medium high. Lightly rub potatoes + leeks with a little bit of oil. Grill potatoes for 10 minutes on each side. Add leeks to the grill away from the hottest heat [top rack or over cooler coals]. Grill for 5 minutes, until leeks have grill marks + potatoes are just cooked through.
Chop leeks + mix in a medium size bowl with mayonnaise. Season generously with salt + pepper. Chop + stir in potatoes. Garnish with a bit of sweet Hungarian paprika. Serve warm or room temperature.
4+ side dish servings.